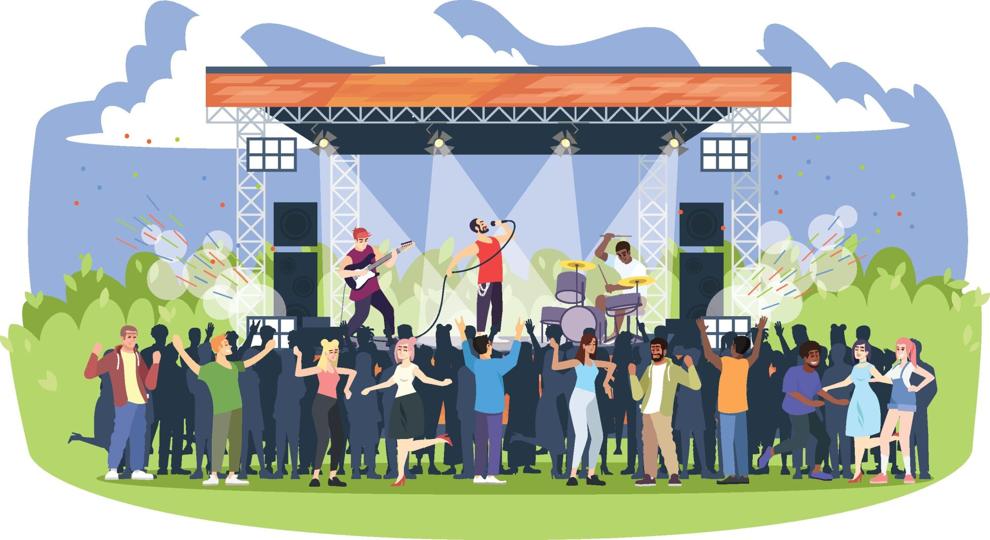 Art Center to do 'Assisted Living' musical
The Art Center Theatre presents their summer musical/comedy, "Assisted Living" with show dates on July 16, 17, 18, 23, 24, 25, 30, 31 and Aug. 1 at the Art Center of Citrus County, 2644 N. Annapolis Ave. in Hernando.
From early retirement right up to the end, 21st century seniors are partying like it's 1969. Imagine no work, no pregnancy and a full array of Medicare-subsidized pharmaceuticals.
'Lock, Stock & Barrel' in Citrus Springs
The Citrus Springs Civic Center will host the "Lock, Stock & Barrel" concert with Richie Merritt, Charlie De and Stan Prinston at 6 p.m. Saturday, July 24, at the Citrus Springs Community Center, 1570 W. Citrus Springs Blvd. Doors open at 5 p.m.
Tickets are $10 for Civic Association members and $15 for non-members. To purchase a ticket, call 352-897-5009 or go to the Citrus Springs Community Center.
Bluegrass festival to benefit Jeremy's Journey
The public is invited to a Jeremy's Journey Bluegrass & BBQ Festival to help raise money for local 18-year-old Jeremy Schreifels, to have a life-changing surgery to help with his battle against Tourette syndrome.
The event will be from 3-7 p.m. Saturday, July 17, at The Depot in downtown Inverness. Along with an afternoon of knee-slappin' bluegrass, there will be barbecue, fun activities and more.
Rekindled Bits of Grass, a staple in the bluegrass community, will headline the event. Also taking the stage will be Cousin Brent.
Meals will include pulled pork sandwiches, fried okra and a choice beverage. Pop Fusions ice and wine gourmet fruit pops will also be available for an additional fee.
Beer and Wine will be available for purchase from The Loft Bar & Grill. A portion of all additional sales will benefit the #JeremysJourney fundraiser.
Tickets will be available at the door. Cost is $10 for adults, $5 for 12 and younger. Admission includes a meal per guest, live entertainment and access to all of the activities.
The Depot District is located at 300 N. Apopka Ave., Inverness.
Parks and Rec to host Garth Brooks tribute artist
Citrus County Parks and Recreation presents Kip Sweeny and his tribute to Garth Brooks at 7 p.m. Saturday, July 17, at the Citrus Springs Community Center, 1570 W. Citrus Springs Blvd. Doors will open at 6 p.m.
Sweeny is a dance instructor, disc jockey, choreographer and vocalist. He travels all over the world as a Garth Brooks impersonator.
Sweeny works with all three major theme parks in Orlando. His band has been approved by the Secret Service to perform for two different presidents, many governors and most Fortune 500 companies.
The band has traveled overseas to perform for the military forces in the United Arab Emirates and will continue to reach every piece of the Earth that becomes available to them.
Tickets are on sale for $15 per person at the Parks and Recreation administration office, 2804 W. Marc Knighton Court in Lecanto. For questions, call 352-527-7540.
Art Center sets concert
The Art Center of Citrus County Theatre is pleased to host internationally acclaimed guitarist Richard Gilewitz and Grammy-nominated multi-instrumentalist Tim May for their annual July benefit. The show will be available at two different times from 3 p.m. to 5 p.m. and 8 p.m. to 10 p.m. Wednesday, July 21, at the Art Center of Citrus County 2644 N. Annapolis Ave., Hernando. Cost is $25.
This year's concert will be a treat for the audience as both musicians show off their chops with tunes spanning bluegrass and the blues, the classical favorites as well as a bit of folk, pop and somewhere in between. Those familiar with this duo will be delighted with their banter and magnificent musicianship.
These two tireless performers are a natural fit as Gilewitz weaves his magic of moods, playing selections that span the mu-sical genres, fascinating listeners with 6- and 12-string finger gymnastics while spinning enchanting yarns of a seasoned raconteur. Add Nashville-based May into the mix with his award-winning playing on banjo, guitar, and mandolin, plus his vocals for an evening of profound pleasure.
Smithsonian Traveling Exhibition at museum
The Old Courthouse Heritage Museum, in cooperation with the Florida Humanities, will examine water as an environmental necessity and an important cultural element as it hosts "Water/Ways," a traveling exhibition from the Smithsonian's Museum on Main Street (MoMS) program. "Water/Ways" will be on view through Saturday, Aug. 21.
The Old Courthouse Heritage Museum and the surrounding community has been expressly chosen by the Florida Humanities to host "Water/Ways" as part of the MoMS program — a national, state and local partnership to bring exhibitions and programs to rural cultural organizations. The exhibition will tour seven communities in Florida starting here in Citrus County.
For information, call Citrus County Historical Resources at 352-341-6428.
Dunnellon quilters announce weekly meetings
The Dunnellon Country Quilters meet at 12:30 p.m. Mondays at the First United Methodist Church on West State Road 40. They conduct their business meetings on the third Monday monthly.
The group makes patriotic quilts for the Citrus County Resource Center and pillowcases for the Shands Children's Cancer Center.
Members teach classes on different projects throughout the year and go on road trips to quilt shops. All who are interested are welcome to join.
For information, call Dianne Takahashi at 352-209-4900.
Senior program hosts free ukulele classes
The Hernando Area Senior Program is hosting free ukulele classes with Joy Wilson at noon on Tuesdays at 2415 N. Florida Ave. in Hernando. All skill levels are welcome.
Attendees must comply with COVID-19 guidelines and masks are mandatory. Due to limited space, participants should call ahead to make a reservation. For information about these activities, call 352-527-5484.
Attend monthly meetings with the Sunshine Poets
Join the Sunshine Poets' monthly meeting and poetry reading at 10 a.m. on the last Thursday monthly at the Central Ridge Library in Beverly Hills.
Attendees are welcome to bring poems to share, or just listen. If you would like the members to critique your poems, bring several copies on which they can write suggestions. Attendees are also welcome to join the group afterward for lunch at a local restaurant.
Additional details are available on the Sunshine Poets Facebook page. For information, email Cheri Herald, Sunshine Poets president, at [email protected]